Our Keokuk Lawyers
We have a new office in Keokuk, IA. We have represented labor unions and their members in Keokuk for over 15 years, so we decided to open an office in order to represent more workers in Lee County.
How Can We Help?
Please select an area you need assistance in and we'll connect you to the right attorney.
Recent Cases
$400,000 settlement in car vs. pedestrian uninsured motorist insurance claim
April 10th, 2020

A man reached a $400,000 settlement in his claim against his own auto insurance following severe injuries after he was struck by an uninsured driver while walking along the side of the road.
$750,000 settlement for truck driver after rear-end collision
December 31st, 2022

A truck driver obtained a $750,000 settlement after suffering serious injuries in a rear-end car accident.
$300,000 settlement for Cedar Rapids motorcycle crash
March 22nd, 2023

A Cedar Rapids couple each obtained $150,000, for a combined settlement of $300,000, after sustaining facial and shoulder injuries in a motorcycle crash caused by another driver's failure to yield the right of way.
Client wins cumulative trauma claim
March 15th, 2023

Client sustained an injury to her knee based on cumulative or repetitive trauma. The Discovery Rule was used to toll the running of the statute of limitations and notice provisions. Butz v. Frontier Natural Products. File No. 5024797 (March 25, 2010). The Iowa Court of Appeals affirmed the decision.
Man reaches $315,000 settlement for PTSD
March 15th, 2023

Man reaches a settlement against local school district after being diagnosed with PTSD, following lifesaving rescue of student. The claimant won at an arbitration hearing and on appeal before the work comp agency.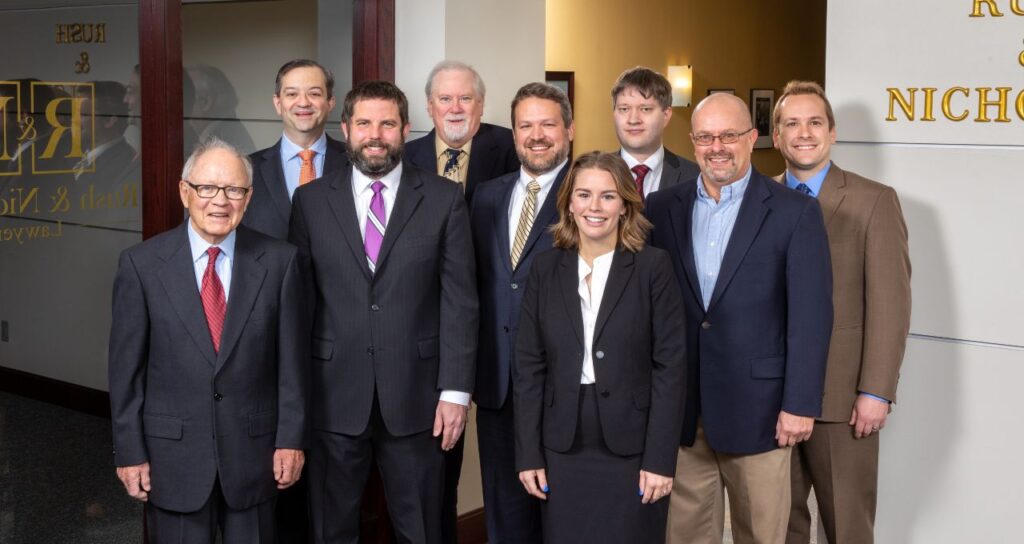 Legal Advice You Can Trust
Rush and Nicholson is on your side. Our dedicated and skilled Keokuk lawyers can help you understand your rights and provide effective representation. There are things that only a lawyer experienced serving Keokuk would know which will benefit you and help bring you better results.
News in Keokuk
Find news related to our work in Keokuk, changes or new laws affecting the area and state, and anything else we find helpful to residents in the area.


Health care for the benefit of businesses, not patients
Imagine you are never allowed to choose your doctor. Imagine you are never allowed to choose your health insurance company. Instead, the insurance company you did not select picks the…
Learn More